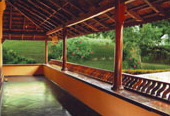 Maranat Mana is a traditional Namboothiri Illam (Kerala Brahmin House-hold)which is situated in central Kerala at the foothills of the Western Ghats.Maranat Mana is one of the last imposing structures with "pathinaru kettu"(4 courtyards )built in the traditional Kerala architecture and vasthushastra, occupying a plinth area of 1 acre. Sitting pretty on an 8 acre plot filled with coconut, cashew, mango, jackfruit,nutmeg, vanilla and medicinal plants, it is home to a family of more than 30 members. More ...


Near by places

Stay at our friends jungle bungalow situated deep inside the forests of Nilambur.


Ooty and Nilgris hill station is a mere ride away.


Kerala Kalamandalam is the deemed univer- sity for traditional performing arts.